Microcomscribe
Regular price
Sale price
$9.95 USD
Unit price
per
Sale
Sold out
"Amiga for Beginners" by Abacus Books is a beginner-friendly guide designed to help individuals who are new to the Amiga computer, a classic system that gained popularity in the 1980s and 1990s. This edition from 1987 covers Workbench 1.3 and 2.0.
Features:
Introduction to the Amiga: This book provides a thorough introduction to the Amiga computer, making it accessible to those who may not be familiar with the platform.
Getting Started: It guides readers through the initial setup, helping them connect the hardware and get the Amiga up and running.
Basic Operation: "Amiga for Beginners" covers fundamental operations, including using the Workbench interface, managing files, and executing applications.
Essential Applications: The book introduces users to essential software and applications available for the Amiga, such as word processors, graphic tools, and games.
Hardware Insights: It offers insights into the Amiga's hardware capabilities, including its advanced audio and video features, which were cutting-edge at the time.
Nostalgic Appeal: Since the Amiga holds a special place in the hearts of many retro computing enthusiasts, this book provides a delightful journey into computing history.

"Amiga for Beginners" by Abacus Books serves as an excellent entry point for newcomers to the world of the Amiga computer, offering practical guidance and connecting readers with the nostalgia of this iconic platform.
Share
View full details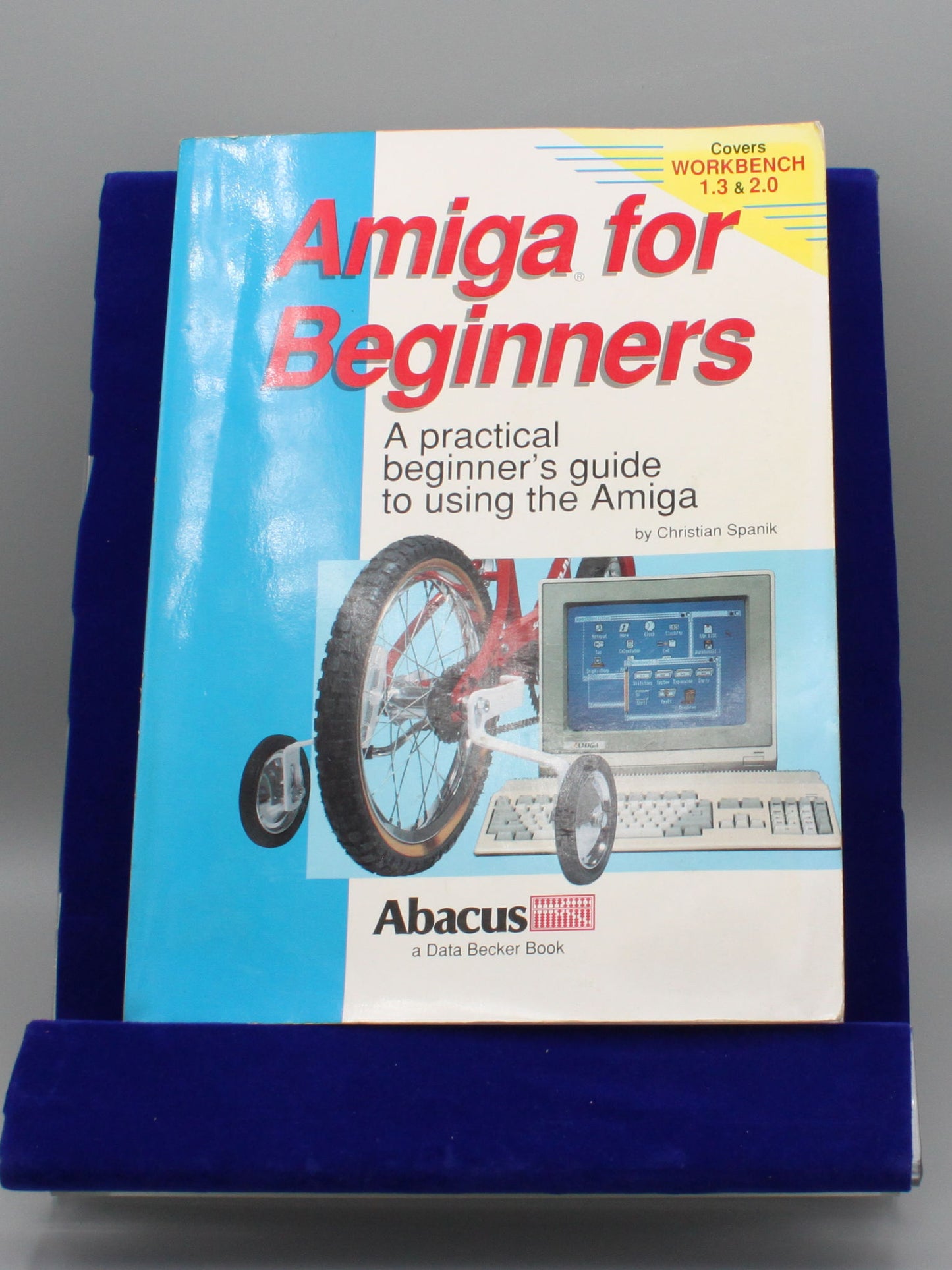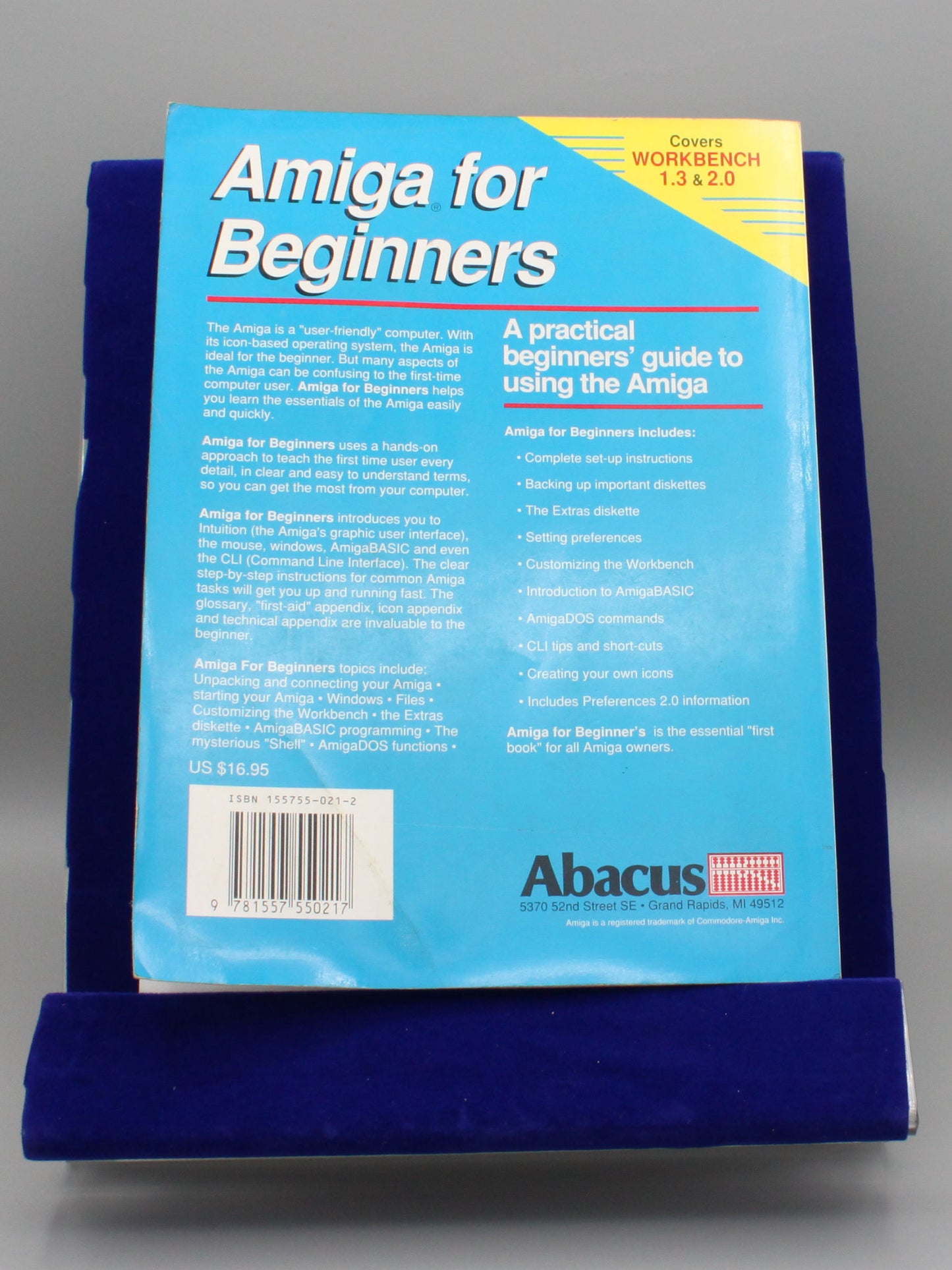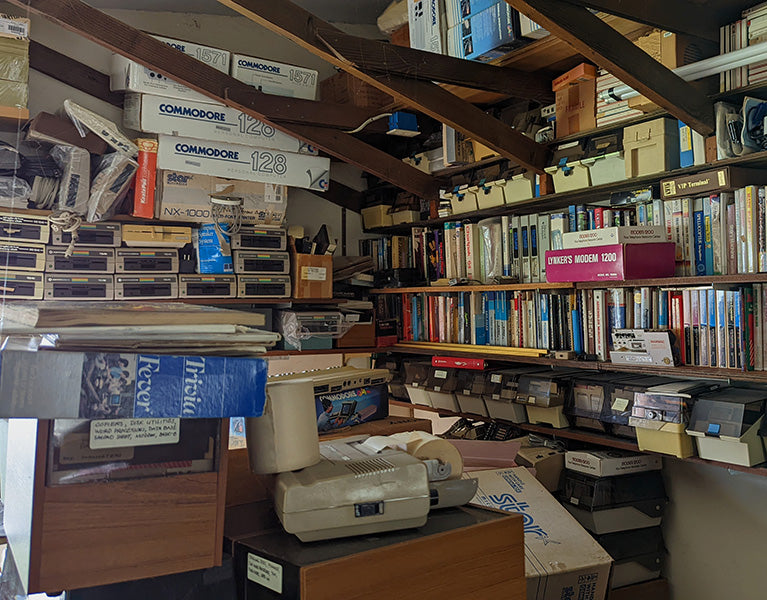 Book Condition
This item came from the Stone Collection. It was stored in a workshop that was abandoned from sometime around the year 2000 until we bought it in 2022. The shop had minimal heating and no AC so these items were subjected to harsh storage conditions. Books and paper items probably have a musty odor. I am not an expert book appraiser so these are rated as below in my opinion. I do my best but cannot check every page of every book.
Like-New - Book is like you would expect off a store shelf in the 1980s
Almost-New - Book is in great shape and has any disks or other add ons it originally came with. It has been used and may have some wear and light writing in pencil.
Very-Good - Book is complete but may be lightly yellowed and have minimal notes in ink.
Good - Book is complete but has some yellowing, creases, writing and/or highlighting. Great as a daily driver but may not be for a collector. May have a musty odor. ad-ons are there but may be separated from the binding (Like a schematic or quick reference sheet).
Fair - Book is scruffy and may have significant notes in it, damaged or torn pages, a musty odor and/or other issues. Add-ons may be missing or in poor condition. Binding may be cracked or starting to separate.
Poor - It's a train wreck and is probably missing pages, have a split binding or just about anything else you can think of. I would only list a poor book for something very rare or that has important technical value still.
See Collection on YouTube